On Sunday, August 28, 2011, Hurricane Irene visited with incredible force, dropping record amounts of rain, along with gale-force winds.
Like Nyack Hospital just months earlier, Pronto's offices and warehouses were deluged with the forces of nature. The entire facility flooded and became immersed with nearly three feet of storm waters. Offices destroyed, vehicles underwater, and the entire IT network wiped out.
Unlucky for Pronto, the company files were in the middle of a remote backup when the storm hit and submerged all of the local computers. All accounting and company records were annihilated and Pronto appeared to be defeated and ready to go out of business.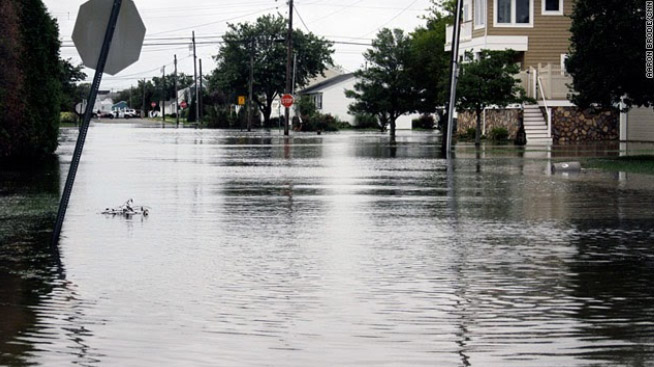 Pronto's determined team of employees rallied around the owner and lifted each other up to begin the cleanup.
The Recovery Process
Our experience remediating mold for our clients was now used to serve our own company. Pronto utilized our expertise in mold inspection, which typically includes inner wall checks, particle counters, and surface swabbing to identify mold growth and any water damage issues.  
New vehicles and computers were purchased, new office space secured and the arduous task of drying out thousands of paper backup documents began. Dedicated employees donated their weekends to the cleanup.
The customers experienced seamless service while Pronto began the rebuild. Miraculously, Pronto moved back into their new and improved facility on December 1 of that year, stronger and more dedicated than before the fateful storm. The spirit of the Pronto team was tested and not only did they defy the odds, but they also came back fortified and more prepared for any disaster. Little did they know, their experience would become invaluable in a future disaster.
Learn More About Pronto Repairs
We offer total service programs to meet the highest standards in the industry. Pronto Repairs performs emergency repairs and preventive maintenance quarterly, monthly or as needed.
Our expertise spans a range of repair and disaster recovery fields, including:
Industrial kitchen equipment
Industrial/scientific refrigeration
Custom stainless steel and diamond plate fabrication
Industrial kitchen renovation
Warehouse storage, trucking, and logistics
Custom equipment rigging and installation
If you're interested in learning more about our disaster recovery efforts, contact us today.